Home
My Journey
"Best New Maker"
June 2005 Blade Show
Thank you for taking the time to stop by my web-site. My name is Mike Ruth and my journey into the world of Bladesmithing began sometime in the fall of 1987 when B. R. Hughes brought a young gentleman by the name of Jerry Fisk into our print shop in need of brochures and business cards. As circumstance would have it, he just happened to have a few examples of his work with him. I was absolutely AMAZED! I had never imagined that a knife... a tool, could be both a fully functional instrument and an immaculate work of art at the same time. To my delight my wife purchased a Damascus steel hunter with a stag handle from him for me as a Christmas present. After that, I was on my way!
After several years of printing brochures and business cards for several of the bladesmiths in our area, I realized that I would like to learn about the process of making hand forged knives. The next few years were very exciting. Through Jerry I met a number of the other mastersmiths in our area including: Joe Flournoy, Mike Williams, James Cook, Roger Massey and Ron Newton just to name a few. Listening intently and purchasing examples of their work when I could, I developed a deep-seated love and respect for the art. Eventually, my love of collecting developed into my own desire to try my hand at the forge.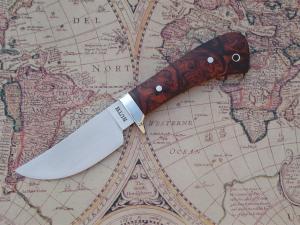 Trailing Point Hunter
Encouraged to enroll in the bladesmithing course "Introduction to Bladesmithing" at the Texarkana College-American Bladesmith Society's "Bill Moran School of Bladesmithing" in Washington, Arkansas was the first step in my apprenticeship. During the two week course, I was instructed by Mastersmiths Jerry Fisk and Rick Dunkerly. Since my initial classes began, I have attended almost every Spring/Fall Hammer-In held in our area. Thanks to the monthly maker's meetings held by Al Lawrence (Uncle Al) in his shop at Riverside Machine in DeQueen, Arkansas, I have been given the opportunity to work alongside and learn from numerous mastersmiths, journeyman smiths, and apprentices alike. This has been invaluable to my growth as a maker.
I had been making knives for friends and family members (practicing) for a number of years until I felt comfortable with my own work. In 2003, I tested for, and was awarded my Journeyman Smith stamp at the Blade Show in Atlanta, Georgia. Since then, I have been steadily working to improve my knives while filling incoming orders. Each knife is performance tested before it leaves my shop.
An article written by B. R. Hughes featuring a few of my knives was published in the June 2005 issue of Knives Illustrated Magazine This article has sparked considerable interest from the knife collecting community. Since its publication, I have received orders from across the U.S. and as far away as Iraq. I also recently received the award for "Best New Maker" at the June 2005 Blade Show in Atlanta, Georgia.
I produce knives utilizing a variety of steels, finishes, handle materials, and designs. Blades can be made of either damascus or high-carbon steel. My steels of choice are: 5160, 1084, 52100, L6 and 15n20. Handle materials vary depending on client's preference. Exotic Hardwoods, Stag, Horn and Bone are just a few of the options. Fittings can be made of German Silver, Stainless Steel, or Damascus. All specifications are based on client preference.
Thank you for your interest in my knives! For more information, feel free to contact me, or just browse my knives.